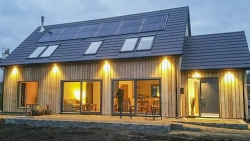 Established 1979, AES Solar was the first manufacturer of solar thermal collectors in Western Europe. We aim to continue exceeding expectations and remain focused on our customers.
The customer always comes first. When you contact us the first thing we will do is find out how to best meet your needs. We'll take a few details whether it be for hot water, electricity or both, the size available for panels and the location they would be placed. We'll then outline the best choices for you based on performance, quality, price and design.
We believe in excellence and are committed to meeting customer expectations of performance, quality, price and delivery. We aim to fully understand our customers' requirements and provide products and services to meet those needs.