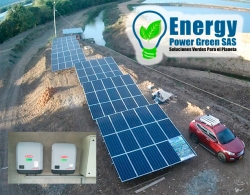 We are a Colombian company specialized in the advising, design and installation of off-grid photovoltaic solar systems, on-grid, solar pumping, special projects of renewable energies, we have trained and specialized personnel in different areas.
Our organization is made up of a team of Colombian professionals specializing in renewable energies who combine their experiences and strengths to offer an integral solution in advice, design, supply and execution of non-conventional energy generation project, especially in photovoltaic solar energy.
We have strategic alliances for the supply of all kinds of renewable energy elements, equipment and accessories.