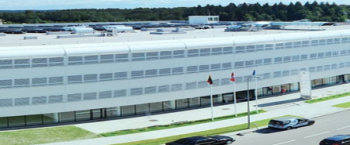 BOD Group High Technology Center L.I.G.H.T. WING (Lithuanian incubator of green and high technologies) is one of the most ecologic industrial plants in Europe were work the latest generation solar cells and modules production lines, research laboratories, the fastest video conference and internet media center in Europe, as well as the incubator of new innovative companies.
Here until 2015 the High Technologies will create €145 Million value for provided production and services, while until 2017 it will reach up to €290 Million. In 2015 over 500 highly skilled employees will work in L.I.G.H.T. WING.
The main area of this 30 thousand square meters is taken by companies Baltic Solar Energy and Baltic Solar Solutions which produce high efficiency solar cells together with modules assembling company Viasolis. With annual capacity of 16,7 million units of cells and 70 MW they will be able to cover demand equal to 50 middle-sized European solar plants.
Also here will be based other high-tech companies like Kemek Engineering, Innovative Pharma Baltics, ProBioSanus, Litfarma, Altechna and others. In one year here will also be opened a new intellectual property protection platform Clear Digital World, which will provide innovative anti-piracy solutions for online digital content.