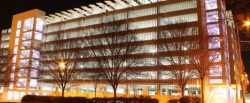 American Solar Wholesale vertical manufacturing insures strict quality control. We manufacture poly and mono ingots, wafers, cells, and modules, with both ARRA and regular product lines. Our vertical integration insures one of the lowest claims rates in the industry, with no warranty claims in both 2010 and 2011, and only 3 modules total claimed under our warranty in 2012!
With sales offices located in California, and Nevada, the largest PV market in the United States, and warehouses centrally located in Baton Rouge, American Solar knows the opportunities and technical challenges facing solar dealers throughout the Americas. We pledge our greatest efforts to ensure our customers' long-term success.
Constant quality control and continuous industry inspection and certification by ETL, TUV, IEC, ISO, and major testing agencies continuous inspection. This continuous quality assurance resulting modules that are in the top 5% of the industry in real world power output as per the CEC. All modules are Electro Luminese Tested to prevent cell and electrical defects! We send flash tests to our customers verifying positive power output over name plate rating on all of our modules.