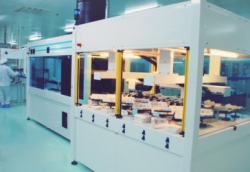 Established in 2007, RECOM has grown rapidly to become today the second largest PV module manufacturing company in Europe. By combining cutting edge technology, unrivalled expertise and the dedication of a highly-skilled workforce, the company's mission is to empower the global population to go solar and switch to cleaner, affordable energy through its production of innovative PV modules of exceptional quality.
With an annual capacity of 1.5GW and a truly global presence through its established offices in the US, Germany, Greece, UK, Italy, Cyprus and Japan, RECOM's expanding sales portfolio includes 65 countries throughout the world, while the company also continues to break new ground in emerging solar markets, working closely with a network of trusted partners.
The company is renowned for its exceptional design aesthetics and for sourcing only the finest raw materials and advanced components to produce the most innovative PV modules on the market at its state-of-the-art production facilities in Europe.
Innovation, superior quality, sustainability, unparalleled customer care, and financial solidity are all key factors which have made RECOM the preferred choice for solar modules worldwide.