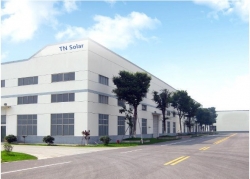 TN SOLAR was founded in 2006 and is located in Taiyuan High-tech industry zone. Our company employs more than 120 senior engineers and professional technicians, those specialists are engaged in solar energy research and Development.
TN SOLAR is a professional solar PV manufacturer, integrating research, development, manufacture and sales. Our group specializes in the production of monocrystal silicon, wafers, solar cells, solar modules/panel, solar lighting systems, and solar power station series. The vertically integrated business model allows us to conduct strict quality control and inspection processes from incoming silicon material to finished modules products.
TN SOLAR panels got TUV certificate, CEC list, and our modules also meet Fire Safety Class for Australian market.
TN SOLAR can supply 200MW Monocrystalline wafers, 200MW solar cells and 200MW high quality PV modules per year which have been exported to many countries, such as Australia, Thailand, Malaysia, Holland, Germany, France, England, Africa and other worldwide countries.