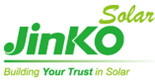 JinkoSolar Holding Co., Ltd. today announced that it has supplied 23MW of PID-free Eagle modules to Enerray. Enerray and DT acted as turn-key EPC and O&M contractors for this project.
Located 125 miles north of the Jordanian capital in Ma'an, the 23MW solar park uses 73,320 pieces of JinkoSolar Eagle modules. The project has been completed and is expected to produce approximately 47GWh/year for the Red Sea port city of Aqaba and reduce CO2 emissions by about 25,000 tons/year. It is backed by a 20-year power purchase agreement with the National Electrical Power Transmission Company (NEPCO).
"Thanks to this great project Enerray will achieve once again its efficiency and quality standards which are all along part of Company's targets. An evidence of this strategy is the selection of JinkoSolar and SMA as suppliers. A few weeks ago we completed the plant and we connected it to mains of the port city of Aqaba. Thanks to the joint venture with DT Technologies, Enerray aims at establishing its rank as market leader also in the Middle East market." stated Michele Scandellari, Enerray SpA CEO.
"We are proud of development and investment work, realized together with our partner, Enerray SpA and in this way we are beginning the construction of the plant. This project is the first one with a network of over 1.5 GW in the Middle East and North Africa, from Morocco to Saudi Arabia", said Nour Mousa, CEO Desert Technologies.
"We are extremely excited to have provided our leading technology to the first large-scale utility project in the Middle East. We believe this is the first step in developing a long-term relationship with such a prominent player in the region as Enerray and DT. We believe Jordanian market is leading the way in the adoption of solar energy in the region. Its current program has incentivized other governments to join the club." adds Gulnara Abdullina, General Manager Africa & Middle East of JinkoSolar.