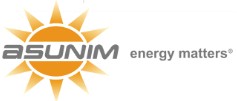 Phoenix Solar AG and Asunim Yenilenebilir Enerji Teknolojileri İnş. Müh. San. Tic. Ltd. Şti. have now connected to the grid the 9.1MW "Solentegre" photovoltaic power plant on behalf of their customer, Akfen Renewable Energies. The system located in Elazığ in Eastern Turkey received full ministry acceptance. The project was implemented in partnership with the European Development Bank (EBRD).
Umut Gürbüz, managing partner for Asunim Turkey, underlined: "We are proud to having delivered this second large project on behalf of Akfen Renewable Energies in accordance with Turkish law and after a challenging but eventually successful planning and construction phase. It will contribute to consolidate and increase our already high market share in Turkey."
"This renewed successful cooperation with our strategic partners at Asunim will strengthen our joint access to the Turkish market. The experience in planning and building licensed photovoltaic systems in accordance with Turkish law adds to our reputation to design and deliver high quality photovoltaic power plants on time and on budget and is generating additional business opportunities", added Klaus Friedl, Vice President Sales Middle East at Phoenix Solar AG.