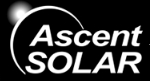 Ascent Solar Technologies, Inc. reported results for the quarter ended March 31, 2017.
Q1 2017 Financial Results:
The Company posted net revenue of $281K for Q1 2017, a decline of approximately 60% from the corresponding quarter in 2016 of $710K. The revenue decline is a direct result of the Company's exit from the EnerPlex branded consumer business, which was primarily distributed through traditional brick and mortar retail outlets. As previously noted, the company has decided to limit its consumer business to e-commerce platform and OEM model, and instead focus more on the specialty PV market such as defense, drones, aerospace and satellite markets.
Notwithstanding the revenue decline, the loss from operations improved approximately 39% to $4.6M from $7.5M in the first quarter of 2016. This improvement was due mainly to the corresponding reduction in expenses resulting from the above-mentioned exit from the brick and mortar consumer market. Lower depreciation and amortization as well as progressive cost reduction initiatives in R&D and manufacturing operations also contributed to the improvement in operational loss. These expenses are expected to decline further as the Company continues to restructure and streamline its operations.
The net loss for the quarter was $5.2M, which included approximately $540K, net in non-cash interest expense and losses on extinguishment of liabilities associated with the outstanding convertible notes and convertible preferred stock, offset by non-cash gains related to changes in the fair value of derivatives and to the sale of the EnerPlex brand. Overall, the net loss also improved sharply by about $5.3M, or approximately 51% from $10.5M in Q1 2016.
Management Comments:
"Now that we have reduced the consumer business concentration, we will continue to streamline our business model to better allocate our resources in order to focus on our core strength; developing specialty PV markets with high entry barriers like the military, 1st responders, emergency power, aviation (drones), space and near-space applications," commented Victor Lee, President and CEO of Ascent Solar Technologies, Inc. "The Company has made significant progress in these developing high-value markets, and we will continue to sharpen our focus in such areas where Ascent is truly at the forefront of the competition."
"We believe our recent achievement of being the first and only flexible CIGS manufacturer to achieve ISO 9001:2015 certification, will speed up our sales velocity and enable us to better serve those premium market customers who demand highly robust and fail-proof products that are manufactured under a superlative Quality Management System," Mr. Lee concluded. "We are optimistic and certainly look forward to a stronger 2017 and beyond, as our high-value PV market focus begins to take shape. We look forward to updating our shareholders as we make continued progress."