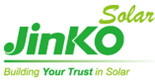 JinkoSolar Holding Co., Ltd. today announced that its Jinko Japan has entered into a 187MW Cooperation Agreement with Quantum Power GK.
In accordance with the Agreement, Jinko Japan will exclusively supply 187MW worth of 275W modules for three projects of Quantum Power in Japan located in Ibaraki, Gunma and Mie prefecture. The project will operate a solar power plant, which generates 127,500MWh per year and provides clean energy nearly to 90,000 households in the region. The power plant will start construction from July 2017 and is scheduled to complete by November 2018. The shipment of the modules for the Projects is supposed to commence in the fourth quarter of 2017.
"We are excited to build a partnership with JinkoSolar -- an innovative leader in the Solar Industry," said Lluis Torrent, Managing Director of Quantum Power Japan. "We are always looking to support and join with innovators and companies that we know will provide the most value to our solar customers."
"We are pleased to enter into this strategic relationship with Quantum Power GK," commented Mr. Gener Miao, JinkoSolar's Vice President of Global Sales and Marketing. "Our influence in the Japanese market will further increase and our efforts to support our customers in Japan will be greatly enhanced through this new relationship."