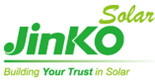 JinkoSolar Holding Co., Ltd. recently announced that it supplied 55.7MW modules to the Garissa Solar Power Plant.
Located in Barki Village, Garissa County, Kenya, the solar plant is expected to be formally commissioned by Kenyan President Uhuru Kenyatta. Once completed, the solar plant will connect to the national grid and offer energy costs that are competitive with other sources.
"JinkoSolar is committed to providing the world with high-quality products to generate green energy," commented Mr. Gener Miao, Vice President Global Sales and Marketing of JinkoSolar. "Garissa County has favorable sunlight conditions for solar power generation. The completion of this project is expected to open up Garissa County, creating an economic hub in northeast Kenya that will generate economic development and boost local businesses. It is also another step towards President Kenyatta's 2020 target of obtaining100% green energy across the country."