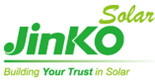 JinkoSolar Holding Co., Ltd. today held the opening ceremony for its new solar panel manufacturing facility at 4660 POW-MIA Memorial Parkway, Jacksonville, Florida.
Pilot production at the manufacturing facility began in November 2018 and has since been steadily ramping up. Once fully operational, the $50 million facility will employ more than 200 workers and manufacture 400MW of 60-cell and 72-cell monocrystalline PERC modules annually.
"Advanced manufacturing is critical to the continued growth of our local economy, and we thank JinkoSolar for choosing to invest in Jacksonville," said Aundra Wallace, president of JAXUSA Partnership, the economic development arm of JAX Chamber. "We look forward to working with JinkoSolar to make sure they have the highly-skilled workforce they need to succeed and thrive here."
"When JinkoSolar began exploring options for its first U.S. manufacturing operation, they could have chosen any location throughout the country," said Mayor Lenny Curry. "I am incredibly delighted that JinkoSolar chose the city of Jacksonville as its U.S. headquarters. It clearly demonstrates our growing reputation as a business friendly community with a quality workforce, quality economic offerings, and quality of life conditions. We welcome them!"
"JinkoSolar continues to gain market share in many regions across the globe, including the United States, and this factory will be key to solidifying that strong market position," said Kangping Chen, CEO of JinkoSolar. "We are fortunate to call Jacksonville home with its excellent business environment and hospitable community, features which enabled us to find a talented workforce, complete the facility, and quickly begin producing world class PV modules."