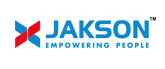 March 4, 2013 - Jakson Power Solutions has commissioned its first solar IPP project at BAP, Jodhpur District, Rajasthan. The 20-MW solar power plant in Rajasthan has been set up with an investment of Rs 200 crore under government's Jawaharlal Nehru National Solar Mission (JNNSM) policy Phase 1 Batch 2. Jakson Power Solutions has signed 25 years power purchase agreement (PPA) with NVVN (NTPC Vidyut Vyapar Nigam Limited) for this project.
The solar power plant is built on an approximately 100 acres land using crystalline solar cells technology. Also it is the largest single location Solar Power farm in India based on crystalline cell technology. The project is expected to generate permanent employment for 100 people. The entire execution from purchase of land to commissioning was completed in a short span of 10 months.
The company has also acquired 250 acres of additional land at the same site for developing solar farms and plans to scale up the capacity to 100MW within next 3 years.