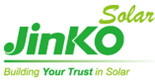 March. 01, 2013 -- JinkoSolar Holding Co., Ltd. today announced the opening of its first sales office in Tokyo, Japan. The newly opened office will serve as a centralized sales and service hub for JinkoSolar's Japanese customer base.
''Japan has taken a leading role in the global development and utilization of this clean and sustainable energy solution,'' said Mr. Xiande Li, Chairman of JinkoSolar," With our new base in Tokyo and continued collaborative efforts with local and regional partners, we will strive to promote the long term development of the solar industry in Japan.''
"JinkoSolar is committed to providing its Japanese customers with the highest quality products and swift customer support," stated Mr. Arturo Herrero, Chief Marketing Officer of JinkoSolar. "As a reliable and effective solar partner across the globe, we take pride in providing stellar customer service. Having a physical presence in Japan serves as a critical asset for our customers and demonstrates our commitment to the market."