July 17, 2013 - Clenergy recently announced that TÜV Rheinland accredited its SPS three-phase grid-connected inverters, including the SPS50, SPS100 and SPS200 models.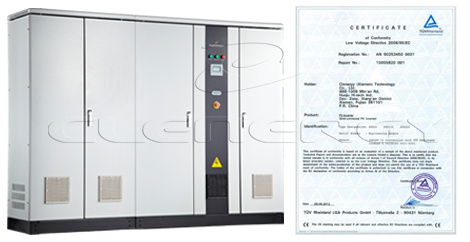 Clenergy CTO Simon Wall led Clenergy's R&D team through a three-year project to develop the SPS series of inverters. The SPS team registered several international patents in the development stage and the final product measures up to the industry's leading technical standards. Key achievements include a conversion efficiency of 98.7 percent and an MPPT efficiency of 99.9 percent.
The SPS line features an input range (up to 850VDC) with a high conversion efficiency rate, permitting it to work with almost any device.
"TÜV certification will further enhance the competitiveness of Clenergy's inverter products in the global PV market", said Simon Wall, "the newest addition to our SPS line, a 500KVA model for large-scale utility projects, is now in the final stage of development and is expected to launch in China this October." He also revealed that the SPS line will be used in a number of projects in China's Yunnan province this year.