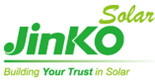 July 30, 2013 - JinkoSolar today announced that it will supply AMEC with 39MW photovoltaic modules for three solar projects in the United States.

Located in Marion County, Indiana, all three projects will utilize JinkoSolar's 300W 72 cells PV modules. Once connected to the grid, the facilities will generate enough power to supply 7,500 homes. According to terms of the agreement, deliveries will be completed during the 4th quarter of 2013.

"We are pleased to have the opportunity to work with JinkoSolar," commented Mr. Tom Dodson, Vice President of AMEC. "Their leading technology and excellent service in the US made them the ideal choice during the supplier selection process."

"We are thrilled to be working with AMEC on these projects," said Mr. Nigel Cockroft, JinkoSolar's US General Manager. "AMEC has an outstanding reputation as one of the leading EPC service providers in the solar industry. Working with AMEC on these projects is one of our largest deployments in the US market and will further strengthen our presence here."