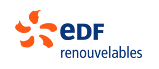 August 22, 2013 - EDF Renewable Energy today announced that the 143MWp (110MWac) Catalina Solar Project, located in California's Mojave Desert, has reached commercial operation.
Catalina Solar is comprised of 82MWp Solar Frontier and 61MWp First Solar PV modules and is expected to generate electricity for 35,000 homes. EDF Renewable Services will provide operations and maintenance services.
Located on 900 acres of privately owned land southwest of the Tehachapi and Piute mountains, the thin film photovoltaic panel project commenced construction in May 2012, and began ramping up operation in December 2012. The project's clean energy is provided to San Diego Gas & Electric Company (SDG&E) under a 25-year Power Purchase Agreement. EDF Renewable Energy now has 343 megawatts of renewable energy generation through three projects to meet its contract obligations to SDG&E, all of which are sited in Kern County.
"Achieving commercial operation of this flagship solar project is a key milestone for our organization, and a testament to the commitment and capability of the entire EDF Renewable Energy team," stated Ryan Pfaff, Executive Vice President of EDF Renewable Energy. "Projects like Catalina Solar underscore the meaningful role that stable policy at the national and state levels - specifically the Federal Investment Tax Credit and the California Renewable Portfolio Standard - can play in enhancing our nation's long-term energy security."
"EDF Renewable Energy has been a great partner, working hard to get both the Catalina Solar and the Pacific Wind projects operational," said Matt Burkhart, SDG&E Vice President of Electric and Fuel Procurement. "Our commitment to helping get viable renewable resources developed has produced great results with projects like these that are contributing to meeting California's aggressive renewable goals."
Mark Tholke, Vice President West Region, added, "Catalina Solar consists of over 1.1 million solar PV panels and is estimated to offset 250,000 metric tons of greenhouse gas emissions annually. The project has been an important source of direct and indirect economic activity in Kern County, including over 500 workers on-site during construction. We are delighted with completion of this most recent example of EDF RE and SDG&E's long-term partnership to provide steel-in-the-ground toward California's Renewable Portfolio Standard (RPS) goal of 33 percent renewable energy by 2020."