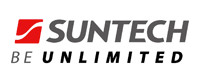 Oct. 30, 2013 - Suntech today announced it has received an investment letter of intent from Wuxi Guolian Development (Group) Co., Ltd. ("Guolian") to make an equity investment into the Company of not less than US$150,000,000 in cash in connection with supporting a comprehensive rehabilitation and restructuring of the financial and operational affairs of the Company. In addition, it is intended that Guolian would, upon satisfactory terms and conditions, cause related solar and other businesses it owns to be injected into the Company and/or enter into joint venture or similar arrangements with the Company to take advantage of the Company's global platform, distribution networks, and other synergies.
Mr. Zhou Weiping, Suntech's CEO said, "Even though the investment letter of intent is indicative only and is not a firm commitment, this is an important step in the restructuring of the Company with key stakeholders. While there will be substantial dilution for existing shareholders, the successful implementation of these efforts will preserve the Company's international platform, rebuild the Company's operating assets, and rehabilitate the Company's global brand."
Guolian had previously participated in the competitive bidding process for Wuxi Suntech Power Co., Ltd. ("Wuxi Suntech"), the Company's principal operating subsidiary in China currently in administration. As previously disclosed, Jiangsu Shunfeng Photovoltaic Technology Co., Ltd. ("Jiangsu Shunfeng") had on October 8, 2013 been provisionally selected as the strategic investor of Wuxi Suntech, and on October 24, 2013 signed a strategic cooperation agreement with Wuxi Suntech. Such strategic investor will be officially selected pending approval during a second creditor's meeting of Wuxi Suntech scheduled on November 12, 2013 and then final confirmation by the Wuxi Intermediate People's Court. Guolian's investment letter of intent refers to a potential investment in Suntech Power Holdings Co. Ltd.