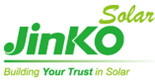 Nov. 13, 2013 - JinkoSolar today announced that it has become one of the first Chinese solar PV companies to have obtained JIS Q 8901 Certification from TUV Rheinland.
The JIS Q 8901 Certification was established in February 2012 to create an assurance system (including design, production and performance warranty) for solar PV modules with the aim of encouraging a wider adoption of PV power generating systems, as well as promoting product reliability and user protection in the Japanese solar market. This certificate provides a comprehensive evaluation of various aspects including reliability of raw materials used, long-term performance and stability of commercial solar modules, service guarantees to customers (terms of after sales service, installation manual, customer transaction history record and filing, non-disclosure agreements, etc.), skills and professionalism of after sales technical staff.
Mr. Kangping Chen, CEO of JinkoSolar commented, "This certification further proves the inherent quality and reliability of our solar PV products, and demonstrates that our products and service fully satisfy the strict requirements of Japanese consumers. This will significantly help us as we seek to further expand into the Japanese industrial and residential market. We also expect that this will increase the confidence of Japanese customers in JinkoSolar's brand, products and localized service, and further demonstrates the strength of JinkoSolar's name."