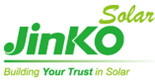 Feb. 19, 2014 - JinkoSolar today announced that it has entered into an agreement with Premium Energy Co. Ltd ("Premium Energy") to supply photovoltaic modules to the Swiss Embassy in Tokyo, Japan. This will be the first clean energy project constructed on the Swiss Embassy in Japan.
According to the terms of the agreement, JinkoSolar will supply its distributor, Premium Energy, with 49.41kW of mono JKM270M-60-J 270W solar modules for the Swiss Embassy in Tokyo.
"We are pleased to have been offered a role in this special project with the Swiss Embassy in Tokyo and Premium Energy," commented Mr. Xiande Li, Chairman of JinkoSolar. "This is an iconic project in Japan. I'm glad to see that all parties involved share a mutual vision: optimize the energy mix and take responsibility for a greener future."