Kyocera Corporation today announced consolidated financial results for the first half of fiscal year 2015 ("first half" or "FY15-H1," covering the six months ended September 30, 2014), as summarized below.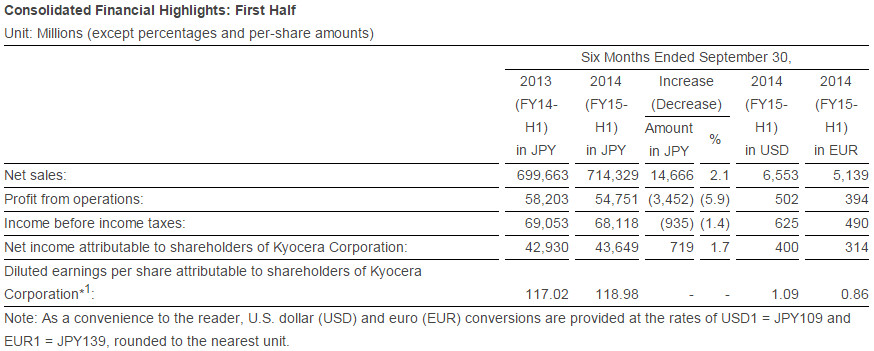 Summary
Digital consumer equipment, including the components required therein, represents the principal market for Kyocera Corporation and its consolidated subsidiaries ("Kyocera Group" or "Kyocera"). Compared with the six months ended September 30, 2013 (the "prior period"), demand for smartphones grew, particularly in emerging markets; and automotive markets expanded steadily, especially in China and the United States. However, growth in the solar energy market slowed considerably in Japan, due mainly to the impact of the consumption tax rate increase and the end of government subsidies supporting residential solar power generating systems.
Consolidated net sales increased compared to the prior period due to higher sales at the Semiconductor Parts Group and Information Equipment Group, offsetting sales declines at both the Electronic Device Group, which undertook structural reforms during the prior fiscal year, and the Telecommunications Equipment Group. Due mainly to price erosion at the Applied Ceramic Products Group, profit from operations decreased compared with the prior period, despite significant profit increases at the Information Equipment Group, Fine Ceramic Parts Group, and Electronic Device Group.
In summary, consolidated net sales increased 2.1% over the prior period, to JPY714,329 (USD6,553) million; profit from operations decreased 5.9%, to JPY54,751 (USD502) million; income before income taxes decreased 1.4%, to JPY68,118 (USD625) million; and net income attributable to shareholders of Kyocera Corporation increased 1.7%, to JPY43,649 (USD400) million.

Consolidated Financial Forecasts: Year Ending March 31, 2015
From the three months ending December 31, 2014 ("the third quarter") onward, Kyocera expects component demand to rise, following increased production of digital consumer equipment — particularly smartphones — and steady growth in the industrial machinery and automotive markets. Kyocera also expects sales to increase through new product launches and expanding markets for mobile phone handsets and multifunctional products (MFPs).
In light of this outlook, sales and profit from the third quarter onward are projected to exceed the first half, and as a result, Kyocera has maintained its consolidated financial forecasts for the year ending March 31, 2015 as announced in April 2014. Forecasts for individual reporting segments have been revised as shown in the full report, based on results in the first half and the outlook for the third quarter onward.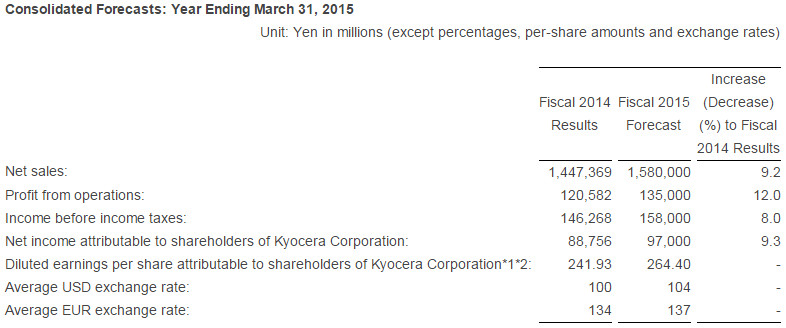 *1 A "two-for-one" split of all Kyocera Corporation common shares was implemented on October 1, 2013. To allow comparison, "Diluted earnings per share attributable to shareholders of Kyocera Corporation" is computed as though this stock split had taken effect on April 1, 2013.
*2 Forecast of "Diluted earnings per share attributable to shareholders of Kyocera Corporation" is based on the average number of shares outstanding during the six months ended September 30, 2014.
FORWARD-LOOKING STATEMENTS
Except for historical information contained herein, the matters set forth in this press release are forward-looking statements that involve risks and uncertainties including, but not limited to, product demand, competition, regulatory approvals, the effect of economic conditions and technological difficulties, and other risks detailed in the Company's filings with the U.S. Securities and Exchange Commission.