SunPower Corp. (NASDAQ: SPWR) today announced financial results for its fiscal 2014 third quarter.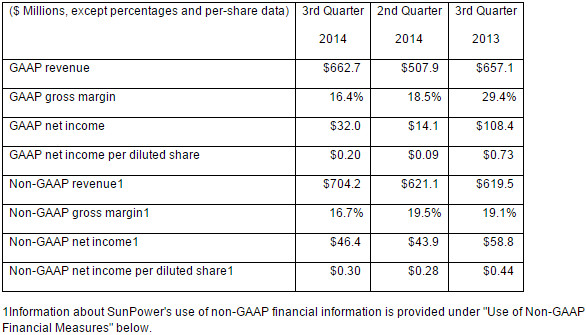 "Our third-quarter results reflect another strong quarter of execution, driven by significant demand for both distributed generation and power plant systems," said Tom Werner, SunPower president and CEO. "Solar power is increasingly competitive with traditional energy sources in a number of markets, and we are well positioned to capitalize on this large opportunity by virtue of our industry-leading technology, competitive cost structure, substantial project pipeline, and ongoing manufacturing capacity expansion.
"Regionally, North America was once again the biggest contributor. Construction of the 579-megawatt (MW) ac Solar Star Projects for MidAmerican Solar is on plan with 309-MW now connected to the grid. Construction of our 135-MW Quinto project is proceeding and we recently closed financing for the project, consistent with our holdco strategy. We also continue to see strong demand in the commercial sector as we booked more than 20-MW of power purchase agreements (PPA); including a 16-MW ground mounted solar project for the University of California at Davis. When complete, our UC Davis system will be the largest solar power plant on any U.S. university or college campus. These commercial system PPAs are also structured in a way that is consistent with our holdco strategy. We also added both new and repeat cash customers to our commercial backlog including a 10-MW expansion agreement with Verizon. In the residential channel, third quarter bookings were up more than 50 percent sequentially as customers continued to choose SunPower for their solutions to take advantage of our quality, performance and flexible financing options.
"In EMEA, we saw stable pricing against the backdrop of an evolving distributed generation market environment and continue to adapt our go-to-market plans accordingly. In the power plant channel, we were awarded a four project, 41-MW supply agreement for Compagnie du Vent, a subsidiary of French utility GDF SUEZ in connection with the recent French national tender program. With this supply agreement and our booked power plant projects, including the construction start of our 85-MW project in South Africa this quarter, we are confident in achieving our goals for this region," continued Werner.
"Japan remained the key driver of our Asia Pacific business, accounting for 28 percent of total shipments in the third quarter. The very strong demand we see from Japan is a testament to the competitive advantage of our high efficiency technology in area-constrained sites and rooftops. In China, we continued to expand our activities through our SunPower® C7 Tracker (C7) joint venture and expect to install more than 30-MW of C7 power plant systems by the end of the year. With strong positions in both Japan and China, we expect Asia Pacific to continue to be a major market for SunPower going forward.
"Finally, on the operations side, we achieved a major milestone during the quarter as we produced our one billionth solar cell, representing a cumulative output of more than three gigawatts. We also continued to improve and scale our industry-leading solar panel technology. With the ramp of our next generation solar cell technology in Fab 4 starting next year, we expect to further reduce our competitive cost structure while adding capacity to meet the increasing demand for our high efficiency solar systems," Werner concluded.
"Strong execution enabled us to meet or exceed our financial targets for the quarter as we continued to see increased demand for our technology across all markets," said Chuck Boynton, SunPower CFO. "We exited the third quarter with total liquidity of $1.2 billion while successfully managing our working capital as inventory declined 15 percent sequentially. With our strong balance sheet, we have the resources needed to continue to strategically develop our holdco project portfolio while funding the ramp of Fab 4. We remain committed to optimizing our cash flow and further investing in our next generation research and development."
Third-quarter fiscal 2014 non-GAAP results include net adjustments that, in the aggregate, increase net income by $14.4 million, including a ($0.7) million gross margin adjustment related to the timing of revenue recognition from utility and power plant projects, $13.7 million in stock-based compensation expense, $5.5 million in non-cash interest expense, $6.1 million of other adjustments and ($10.2) million in tax effect.
Fourth Quarter 2014 Financial Outlook
The company's fourth quarter 2014 consolidated non-GAAP guidance is as follows: revenue of $575 million to $625 million, gross margin of 19 percent to 21 percent, net income per diluted share of $0.15 to $0.30 and megawatts recognized in the range of 300 megawatts to 340 megawatts. On a GAAP basis, the company expects revenue of $675 million to $725 million, gross margin of 22 percent to 24 percent and net income per diluted share of $0.20 to $0.35.
For fiscal year 2014, the company's expectations are as follows: non-GAAP revenue of $2.58 billion to $2.63 billion, gross margin of 19 percent to 20 percent, net income per diluted share of $1.25 to $1.40, capital expenditures of $150 million to $170 million and gigawatts recognized in the range of 1.26 gigawatts to 1.3 gigawatts. On a GAAP basis, the company expects revenue of $2.535 billion to $2.585 billion, gross margin of 20 percent to 21 percent and net income per diluted share of $0.95 to $1.10.
Fourth quarter and fiscal year 2014 GAAP guidance excludes a potential timing benefit of approximately $450 million in revenue and $0.90 in earnings per share related to the real estate accounting treatment of our 579-MW Solar Star projects. This benefit may occur in the fourth quarter but was not included in the company's current fourth quarter GAAP guidance due to the timing uncertainty of this benefit.