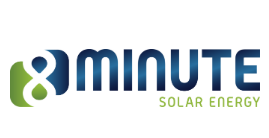 8minutenergy Renewables, LLC today announced the signing of a 25-year contract to sell 100MW-ac (133MW-dc) of clean, renewable solar energy from its Springbok Solar Farm project, located 70 miles north of Los Angeles in Kern County, Calif., to the Southern California Public Power Authority (SCPPA), on behalf of its participating member, the Los Angeles Department of Water and Power (LADWP). 8minutenergy will develop, build and operate the Springbok Solar Farm.
The Springbok Solar Farm project is a utility-scale solar generation facility sited on up to 950 acres of low-productivity farmland. Construction is projected to begin in the first quarter of 2015, with the site expected to be operational and delivering renewable energy to the LADWP by June, 2016. This clean solar generation plant will displace the equivalent of approximately 300,000 metric tons of carbon dioxide (CO2) per year, which is equal to the amount that roughly 12 million trees would displace annually.
"8minutenergy is pleased to work with SCPPA and LADWP to deliver clean renewable energy to the people of Los Angeles," said Martin Hermann, chief executive officer of 8minutenergy Renewables. "We look forward to building the Springbok Solar Farm, which will produce approximately 265 million kilowatt hours (kWhs) of electricity annually for LADWP to power nearly 50,000 households in Los Angeles."
"This project by 8minutenergy at Springbok is an important component of our Power System Resource Transformation program, and our efforts to further enhance solar as an energy resource for L.A.," said Randy Howard, LADWP Power Assistant General Manager. "As Los Angeles expands its energy mix to include more renewables like solar, this contract with 8minutenergy will add capacity to the Barren Ridge renewable energy corridor and meet our goal of providing 33 percent clean energy to Los Angeles residents by the end of 2020."
"SCPPA is pleased to be able to continue to assist our members in fulfilling the needs of their renewable portfolio," said Bill Carnahan, Executive Director of SCPPA. "Through this engagement SCPPA looks forward to a successful and mutually beneficial business relationship with 8minutenergy."
"8minutenergy appreciates the support this solar project has received from state, county and local officials," said Tom Buttgenbach, president of 8minutenergy Renewables. "In addition, the Springbok solar project will benefit the region by creating 300 direct and 400 indirect jobs during construction. We are particularly proud that the workforce will include graduates from Homeboy Industry's solar PV training program."