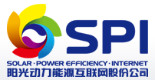 Solar Power, Inc. today announced that it has entered into definitive agreements and closed the acquisition of Gonghe County Xinte Photovoltaic Co., Ltd. from TBEA Xinjiang Sunoasis Co., Ltd. As a result, SPI immediately adds to its global portfolio a solar PV project in the Ningxia Hui Autonomous Region of China with an annual nameplate capacity of 20MW.
Under the terms of the definitive agreements, SPI's wholly owned subsidiary, SPI Solar Power (Suzhou) Co., Ltd., closed the transaction to acquire all of the outstanding capital stock of Xinte from TBEA Sunoasis for an aggregate purchase price of RMB206.0 million (U.S. $33.1 million) in cash and factoring financing. This transaction follows a framework agreement with TBEA Sunoasis previously announced on November 17, 2014, and SPI contemplates acquiring from TBEA Sunoasis an aggregate of 168.5MW of solar PV projects across China pursuant to the framework agreement.
Mr. Xiaofeng Peng, Chairman of SPI, commented, "We are very pleased to announce completion of SPI's acquisition of Xinte, which immediately adds 20MW to our diversified, global PV portfolio. This acquisition marks another step in SPI's ongoing efforts to take advantage of a rapidly expanding PV installation market across China."