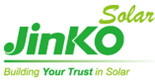 JinkoSolar Holding Co., Ltd. today announced that it will provide 2MW of smart modules to IDEC Corporation for a ground mounted solar PV project in Nishinomiya, Hyogo Prefecture, Japan.
The project, which will comprise of 7,644 JinkoSolar polycrystalline smart modules equipped with TIGO Optimizer smart component, is currently the largest PV project equipped with all smart modules in Japan.
Mr. Kangping Chen, Chief Executive Officer of JinkoSolar commented, "JinkoSolar's smart modules provide stable operation and efficient electricity output for any solar PV system and represent a first step towards building a smart-grid. JinkoSolar's R&D teams are devoted to developing integrated intelligent solution from smart solar modules to intelligent solar power plant systems. We will continue to develop new and efficient intelligent solar PV systems to bring solar power to a new level."