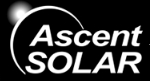 Ascent Solar Technologies, Inc. reported results for the fourth quarter and year ended December 31, 2014.
Q4 2014 Highlights
- Ascent Solar completed $35M preferred stock and convertible debt financing with an institutional investor. Funding of first $4.5M tranche completed in November 2014, second $2.5M tranche delivered in December 2014.
- Ascent Solar officially granted Business License and Certificate of Approval for Establishment of Enterprises with Foreign Investment in the People's Republic of China in September 2014, a key milestone in the activation of the company's China Joint Venture. Initial funding of approximately $1.3M ($1M from the Suqian Economic Development Co., Ltd) was injected into the Suqian JV in December 2014.
- EnerPlex products launched in 300 Premium Verizon Wireless stores in December 2014 via the company's retail partner The Cellular Connection (TCC).
- EnerPlex products launched in 25 Micro Center's nationwide retail stores in November 2014.
- Ascent Solar's EnerPlex brand launched on BestBuy.com in December 2014.
- Distribution agreement signed with national distributor Navarre, a division of WYNIT Distribution, in November 2014.
- Ascent's largest shareholder, TFG Radiant Investment Group completed second tranche of common stock at $2.80 per share, bringing total investments from both Tranche 1 and 2 to $6M.
- United Kingdom based Peak Development signed as a distributor of EnerPlex products.
- Ascent's EnerPlex brand announced Hitfar Concepts as the Company's preferred distributor in Canada.
- Mexico based TodoSolar signed as new distributor of EnerPlex products.
- Ascent Solar's flexible PV modules selected by Vanguard Space Technologies to develop solar arrays for space and UAV missions.
Q4 2014 Financial Results
Total revenue for the fourth quarter of 2014 was $2.4M, up 107% from the previous quarter. Specifically, EnerPlex™ branded consumer product revenue was $2.3M in the fourth quarter, up from $1M in the prior quarter, a 124% increase.
Full Year 2014 Financial Results and Management Discussions
Total revenue for the year was $5.3M, up from $1.3M in 2013 or 308% year-over-year growth. Product revenue increased from $1.1M to $5M, a 349% increase. Loss from Operations increased from $28.2M in 2014 to $33.9M in 2014, due to increase in a combination of advertising, marketing and promotional expenses. These expenses are expected to be reduced or remain flat while we continue to ramp up on revenue growth. The company also incurred significant legal and financing expenses related to the financing activities in 2014, which are expected to decrease substantially in 2015.
2015 Revenue Guidance
The consumer electronics business does present a high degree of seasonality. While it is difficult to project sales on a quarterly basis, the Company expects to generate between $10M - $12M full year revenue in 2015 on the back of strong EnerPlex momentum as well as increased contributions from PV sales.
Management Commentary
"I am excited about the potential of the Company after delivering our first ever $5M revenue mark in the history of Ascent Solar," said Victor Lee, President and CEO of Ascent. "With the ongoing expansion of our distribution channels, I am optimistic to set yet another significant revenue milestone of over $10M. The reconstruction of Ascent Solar in the past 3 years is beginning to yield results, and we are fully prepared to execute our business plan."
Dr. Amit Kumar, Chairman of Ascent Solar, stated, "As evident by the list of accomplishments noted above, Ascent is continuing to build its business in high margin markets, by partnering with numerous organizations to expand the reach of our products. These partnerships will not only enable greater customer reach, but will also help strengthen the EnerPlex brand, reduce costs, and facilitate the launch of many new products. I expect 2015 will truly be an exciting and productive year for Ascent."