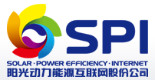 Solar Power, Inc. today announced that SPI has entered into a definitive agreement to acquire 100% of the interest in the 6.02MW solar projects known as "Aerojet" in Rancho Cordova, California. The acquisition is subject to several closing conditions including completion of satisfactory due diligence.
SPI installed the PV system at Aerojet under a 25-year power purchase agreement (PPA) to help power the site's extensive groundwater remediation program, reducing the company's carbon footprint and improving energy usage at the brownfield Superfund site.
"We are excited to announce our proposed re-acquisition of the landmark Aerojet solar projects that helped build the California solar market into what it is today. Having these high-quality assets back within SPI will strengthen both our position in the US market and our growing global PV portfolio," said Xiaofeng Peng, Chairman of SPI.