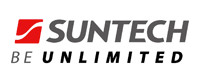 Suntech announced that its modules received the VDE certification of the enhanced hail test, demonstrating the high quality and durability of Suntech's modules in extreme weather conditions, testing higher than other modules in the industry.
"The cells of PV modules will have micro-cracks if used in areas that experience frequent hail storms, which is detrimental to module performance and long-term reliability," said Xiong Haibo, CEO of Suntech. "The ranking highlights that our modules exceed market requirements and demonstrates that Suntech follows the market demand. The certification also indicates that Suntech modules can maintain excellent performance, high-quality and safety standards even in extreme weather conditions. We hope to use this recent certification to lay the foundation for Suntech's entry into markets that face unfavorable weather conditions yet are eager to adopt solar solutions."
"At present, most manufacturers have passed the hail test based on the standard IEC61215, which uses hail of 25mm in diameter to hit the surface of modules, producing about 1.99J of energy during the test. Yet, the VDE test uses hail of 40mm in diameter, the 4th level of hail test in accordance with Swiss standards, which uses hail at a speed of 27.5m/s to hit the modules, producing energy no less than 11.1J, which simulates extreme environmental conditions," said Dr. Han Qiang, VDE's General Manager in Shanghai. "The results revealed that Suntech's modules have nearly no power loss and completely meet the enhanced standard requirements, indicating that they have an excellent ability to withstand hail impact performance even in extreme weather circumstances."