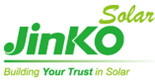 JinkoSolar Holding Co., Ltd. today announced that it will supply 50MW of solar PV panels to Tegnatia.
According to the agreements signed by both parties at the beginning of 2015, the 50MW will be delivered in several shipments bound for projects across Turkey.
"JinkoSolar is very proud to have been chosen as a partner by Tegnatia, one of Turkey's leading and most professional quality-focused renewable energy developers," commented Mr. Frank Niendorf, JinkoSolar's European Sales Director. "This deal makes JinkoSolar the Turkey's leading module supplier. We look forward to identifying and engaging similarly strategic opportunities in Turkey in the coming months to continuously increase our market share."