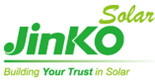 JinkoSolar Holding Co., Ltd. today announced it has entered into a supply agreement to be a strategic partner to Vivint Solar.
"Securing our relationship with JinkoSolar is a decision that we are confident in," said Mr. Jan Newman, Vice President of Business Development at Vivint Solar. "We are always looking to support and join with innovators and companies that we know will provide the most value to our solar customers."
"We are proud to be supplying our high efficiency modules to Vivint Solar, and we gained the trust from Vivint Solar by our stable financial condition." said Mr. Nigel Cockroft, General Manager of JinkoSolar (U.S.) Inc. "We believe this strategic relationship with Vivint Solar will support our overall goal of making solar more accessible to American homeowners, increasing clean energy generation in the U.S. The signing of this supply agreement will further solidify our strategic relationship enabling us both to grow rapidly, while providing valuable, affordable technology to the solar industry and our customers."