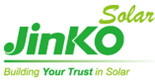 JinkoSolar Holding Co., Ltd. today announced that Jinko Power has signed a three-year RMB3 billion line of credit agreement with Ping An Bank Co., Ltd. ("PAB"). PAB's financing will be used to support Jinko Power's PV project developments.
According to the terms of the agreement, the line of credit is RMB3 billion for three years. The first loan of RMB630 million has been withdrawn and will be used to support the development of PV solar power plant projects in Inner Mongolia, Guangdong province, and Zhejiang province.
"As the PV power market in China continues to mature, we have seen an increasing number of commercial banks, following policy banks, entered solar downstream. As a leading player in the domestic market, JinkoSolar's leading position and strength has been recognized by a growing number of financial institutions." Mr. Xiande Li, Chairman of JinkoSolar, commented, "This agreement, following our banking facility agreements with China Development Bank and China Minsheng Bank, is another credit facility that we have signed with a first-tier bank to finance our downstream projects. We believe this agreement once again reflects the vote of confidence from leading financial institutions in our brand as well as our project development potential. Strong financial support will effectively enhance our sustained development capability, and reinforce our leading position in the domestic PV downstream market."