About Taiflex Scientific:
For the past few decades, the world has recognized the flourishing development of Taiwan's electronics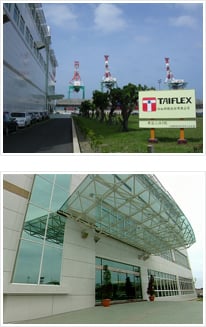 industry. From the downstream assembly to upstream electronics material, the trend of such progression has resulted in the establishment of Taiflex Scientific Co., Ltd.
Taiflex Scientific was founded by professionals from ITR (Industrial Technology Research Institute) and electronic materials industry. Its primary production was flexible copper-cladded laminate for the flexible printed circuit industry. Taiflex was founded on August 16,1997, then entered into ITRI's Incubating center in October, and officially moved to K.E.P.Z. Kaohsiung on July 7,1998. It founding capital was NT$400 million, and the size of the plant was 3,638 sq. meter. After constructing the factory and installing the roll-to-roll production line, Taiflex began mass production in December. Thereafter in April of 1999, Taiflex obtained ISO9001 certification. Then in March of 2000,Taiflex entered into a technological cooperation and strategic alliance with a global leading FCCL manufacturer in Japan, Arisawa Mfg.Co., Ltd.(Japan)
Vision and Mission:
R & D Innovation:
R&D department is always the core of our company, Taiflex R&D team has years of research experience, to provide a full range of lamination materials; in addition, we have the most professional technical services team which well known in the downstream FPC process, can advise and give the appropriate technical/after service to fulfill different needs to our customers. Taiflex is capable of coating 8um products for mass production, we're also doing high-density materials in formulation, halogen-free materials, COF and 2-Layers for high frequency application. And we create precision inspection technology, become the most reliable FPC material supplier to our customers.
Taiflex uphold the concept of environmental protection, we focus on green & energy-saving products development, we develop TPT & TPE type of solar modules for back-sheet products. In the LED industry, we have high reliability thermal conductive aluminum products, also we combine FPC formulation and precision coating technology to create thin, Roll type, flexible board, provide more choice in the use of LED light source. In recent years, we invest in the research of nano-coating, has developed a nano-insulation coatings and resigns, used in automotive, architectural glass window film products, implement Green R&D commitment.