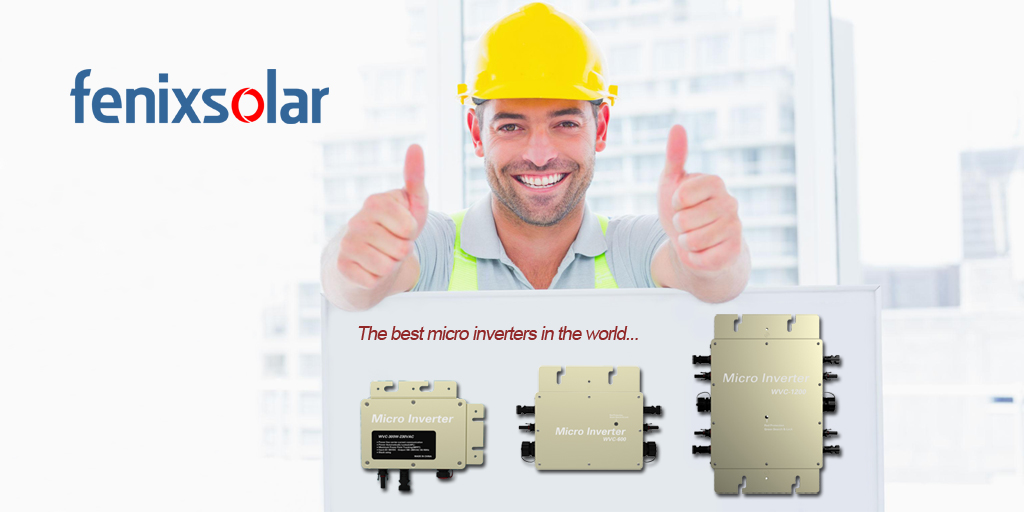 FEATURES
WVC‐1200 micro inverter with Aluminum alloy shell & IP65 & waterproof streamline design, built‐in high‐performance Maximum Power Point Tracking (MPPT) function, more better to track change on solar luminosity and control different output power, effectively capture and collect sunlight. AC electric power transmission based on advanced reverse transmission technology which is one of our patented technologies, load priority and the rest electricity to the grid, high electricity transmission efficiency up to 99%. Excellent stability, reliability, safety and heat dissipation. Perfect communication solution of power line carrier technology between micro inverter and collector, RS232 serial port / WIFI wireless communication between collector and PC. Intelligent monitoring system, the collector is able to collect / track real‐time data on each PV module and transmit to PC, user can easily control micro inverter's startup / shutdown / power regulation by software. Ingenious and modular connection accessories(cable and connector) for micro inverter cluster to ensure economy, easy installation and safety.
High performance micro inverter
◙ Input / output isolated to protect safety

◙

Rapid MPPT tracking technology

◙

Superior PV energy harvest

◙

Excellent thermal performance

◙

High overload capacity
Easy and afford to install
◙

Lightweight and compact size

◙

Outdoor application with firm IP65

◙

Ingenious and modular end connection

◙

Reverse connection prevention design

◙

Flexible installation
Data transmission & communication
◙

Intelligent remote monitoring system

◙

Real‐time data for each PV module

◙

Power line carrier communication

◙

Wifi / RS232 serial communication

◙

LED indication implies system status
Cost advantages
◙

Wide input voltage for solar PV modules

◙

Higher performance‐to‐price‐ratio

◙

Low transport cost by small size design

◙

Low maintenance expense
ABOUT FENIXSOLAR
Shenzhen Fenix New Energy Co.,Ltd is specialized in the manufacturing of solar panels, micro inverter, controller and photovoltaic systems, which permit the distributors such as installers to be able to have the right products that are competitive and certified worldwide.
Those past years we became a major player in the highly competitive photovoltaic market such as European Union, Eastern Europe, Middle East, Southeast Asia, Africa, North America and South America. We focus on quality, on discipline, on cost effective solutions, and on expanding worldwide.
All products we offered are complied with the CE, IEC, TUV, MCS and UL international standards, we always provide high quality, perfect performance products and innovation energy solutions to meet customer's demands and exceed customer's expectations.