Landpower Solar Panel Metal Roof Solar Mounting System is engineered for the maximum flexibility possible in designing and planning for various Corrugated,Trapezoidal metal/pvc roof solar system installation. It is applicable to install the usual module to flush with the pitched roof. Using our innovative Rail and pre-assembled components like tilt-in T module, clamp kit and various holding devices (like hanger bolt and L bracket etc.) our Metal Roof Mounting makes the installation easy and quick to save your labor cost and time.

TECHNICAL INFORMATION
Install site :Pitched Roof
Tilt Angle :Flushed with the roof (10~60 deg)
Building Height:20 m
Max Wind Speed:<60m/s
Snow Load:<1.4KN/m2
Standard :AS/NZS 1170 and other international Standard
Material :High Class Aluminum alloy Al6005-T5& Stainless steel 304
Color: Natural or Customized
Anticorrosive: anodized aluminum & stainless steel
Warranty:Ten years warranty and twenty- year service life

COMPONENT OVERVIEW
Landpower carries various Components for various Corrugated,Trapezoidal metal/pvc Roof Racking Systems, here are some main components: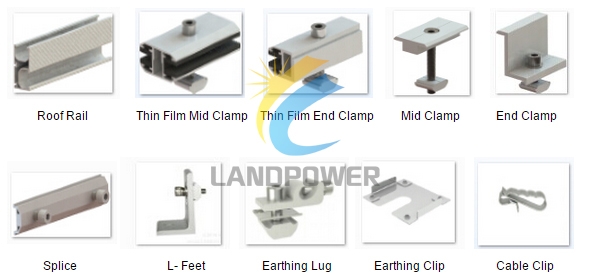 Note: The component is not limited as above, we carry high range of various Corrugated,Trapezoidal metal/pvc roof racking component for various metal roof,if you can't find components above,please feel free to contact us for more details.

ROOF FIXINGS
Landpower design and produce various roof clamp and fixings for various Corrugated,Trapezoidal metal/pvc roof, if you have specific metal/pvc roof shape, feel free to contact us, we are here to make customized solutions for you.
GROUNDING SYSTEMS
The grounding systems include components like earthing lug, earthing clip and bonding jumper etc which makes the solar array more safe.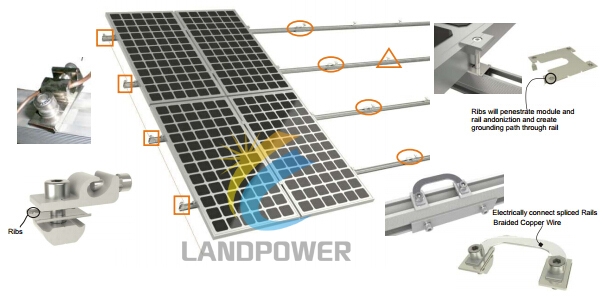 BENEFITS
1,Fast Installation.
The tilt-in T module can be put into the extruded rail from the any location and can be highly pre-assembled with the clamp and roof hook to guarantee a fast and easy installation process.
2, Flexible Application
The high range of engineered holding devices ensure the mounting structure accommodate most of trapezoidal sheet metal roofs. Both crystalline module and thin film module can easily be installed on most kind of metal roofs in landscape or portrait.
3, Economical
The mounting structure is a cost effective mounting solution. The quantity of components can be required and sold according to project specific calculations. The various components can be kept in stock to shorten time between planning and installation.
4, Long lifespan:

All mounting structural components are made of high class stainless steel and anodized aluminum alloy, their high resistance to corrosion and they are designed for twenty-year service life and backed by ten years warranty.
Project Reference(click here): Landpower PVC Corrugated Roof MW Project.
Mega Watt Reference Project: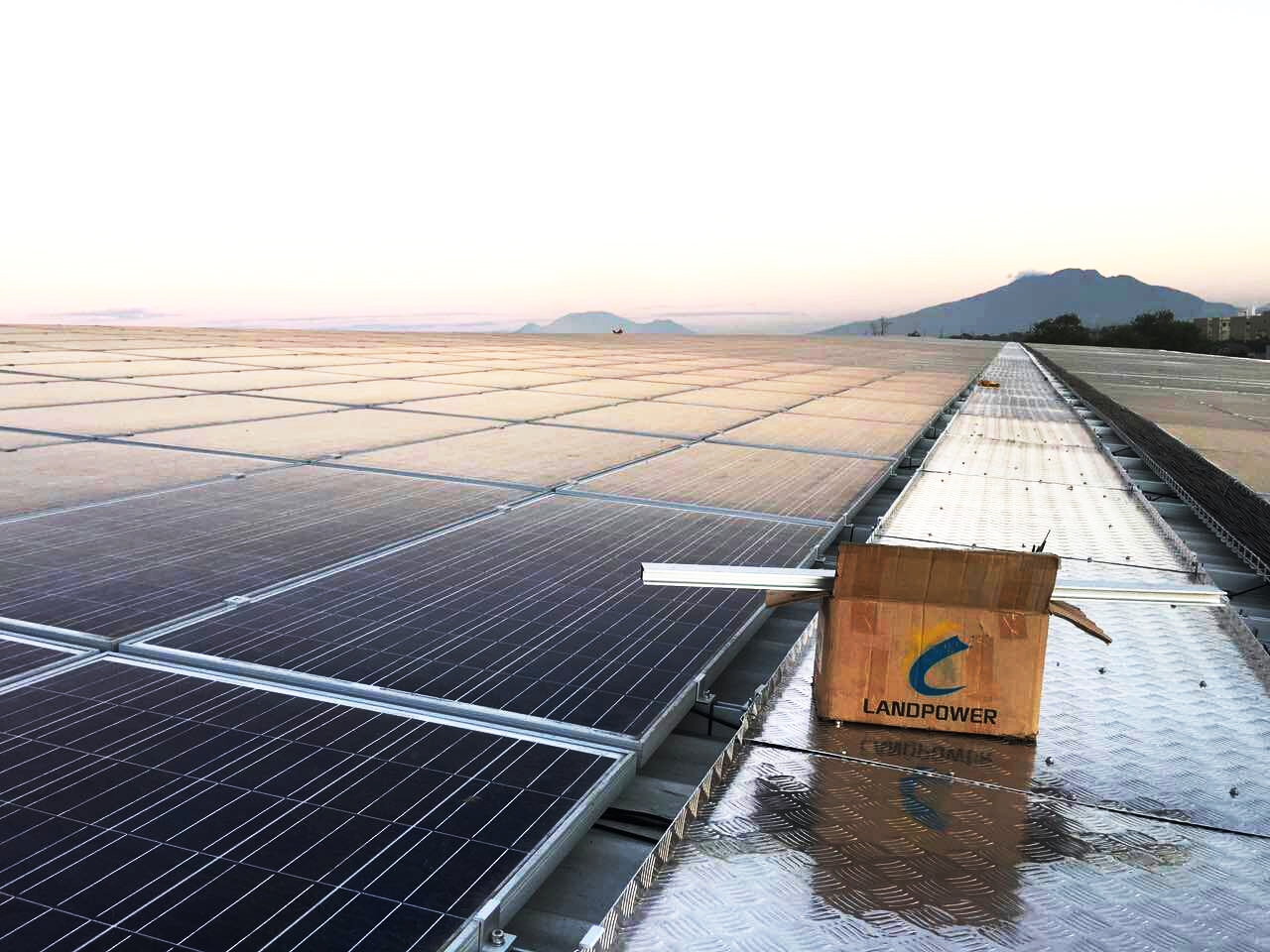 EXTENSION SOLUTIONS:
Pitched Roof Solar Mounting Flat Roof Solar Mounitng Ground Mounting Systems Carport Solar Mounting

Tile Roof Mounting East/West Ballasted Mounting AL Portrait Ground Mounting Solar Carport Mounting
Metal Roof Mounting Adjustable Portrait Mounting C Channel Steel Ground Mounting Ground Screws
Shingle Roof Mounting Portrait Ballasted Mounting Pile-driven Ground Mounting Solar Fencing
Adjustable Tilt Mounting Landscape Ballasted Mounting AL- Landscape Ground Mounting
Adjustable Landscape Mounting Solar Pole Mounting
We engineer and design Solar Racking/Mounting Hardware for specific solar projects, there may not list all the details of racking in the web,therefore,please don't hesitate to contact us for more details for your specific projects. pls click there for more details: Landpower Solar Flat Roof Mounting Systems