PRODUCT DESIGN
CdTe technology was originally developed by US company Solar Fields and used by Calyxo under a worldwide licence. In late 2007, Solar Fields acquired a 7% stake in the company, giving Calyxo GmbH full rights to the technology and the newly established US subsidiary, Calyxo USA , Inc.In February 2011, Solar Fields takes over Q-Cells shares.
Due to its physical characteristics, cadmium telluride is ideal for the highly efficient conversion of radiation energy into electrical power. The high energy yield is enabled by our solar-active layers that absorb the entire sunlight within just a few thousands of a millimetre.
CROSS SECTION THROUGH A CALYXO MODULE
[1] Front glass
[2] Front contact:highly transparent layer with excellent electrical conductivity for maximum light permeability and practically zero-resistance electricity transport
[3] CdS-Layer
[4] CdTe-Layer
[5] Back contact: highly stable, electrically conductive metal
[6] Glass lamination film: water-insoluble seal, safe protection against escape of contents (e.g. in case of any damage), secure sealing of the module edges
[7] Back glass: specially hardened glass designed for long-term demands
[8] Junction box: including solar cable and connector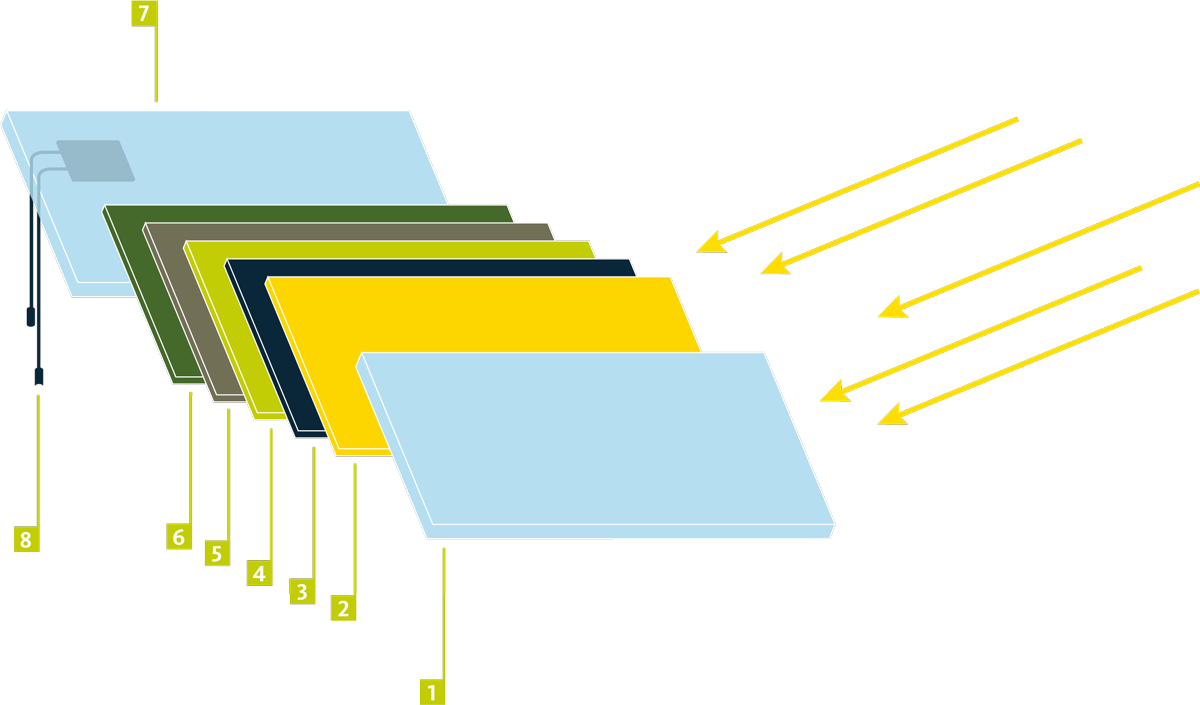 AN INNOVATIVE TECHNOLOGY
Calyxo's advanced manufacturing process and the modules' design guarantee that no cadmium telluride will ever escape in a form that could be harmful to humans or the environment. Longterm studies have shown that neither cadmium telluride nor cadmium sulphide can leak out of the modules. In other tests, attempts were made to dissolve cadmium telluride from finely ground pieces of module with water – but not even under these experimental conditions was this possible.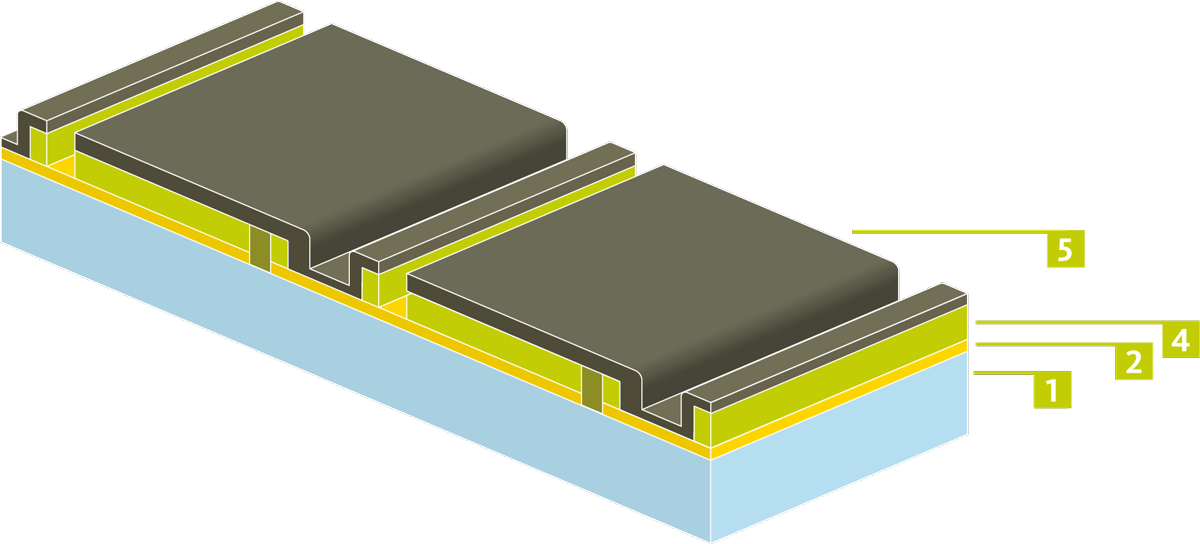 FUNCTIONALITY
Calyxo GmbH are successful manufacturers of thin-film modules keeping pace with the photovoltaic market's cost pressure and updating their product designs continuously to set themselves apart from the competition.
We have a fundamental understanding of all individual process steps and their relevant interactions. On this basis, we continuously analyse and improve our manufacturing processes and increase the volume of our production lines to achieve lower production costs.
In recent years, we have purposefully driven development and construction of the deposition machines for the high process temperatures of about 1,000 °C at atmospheric pressures and carried the technology over from developmental to industrial production scales. This technology itself allows us to profit from significant cost savings on both an investment and an operational basis – in contrast to the more known vacuum deposition processes. The core systems for semiconductor deposition are dimensioned and designed by our innovative team of developers and engineers at Calyxo and main system components are constructed in-house.
In addition to a continuous reduction of manufacturing costs and further expansion of production capacities, we maintain the ability to tailor our products to the customers needs. This is a key factor in maintaining a competitive edge.
CDTE DEPOSITION METHOD
The atmospheric deposition process developed and patented by Calyxo offers huge advantages compared to other photovoltaic processes. In the following, we outline the patented coating method as based on the deposition principle utilising the unique material properties of our material of choice, CdTe.
Definition:
In thermodynamics, deposition is the immediate transition from the gaseous state to the solid state.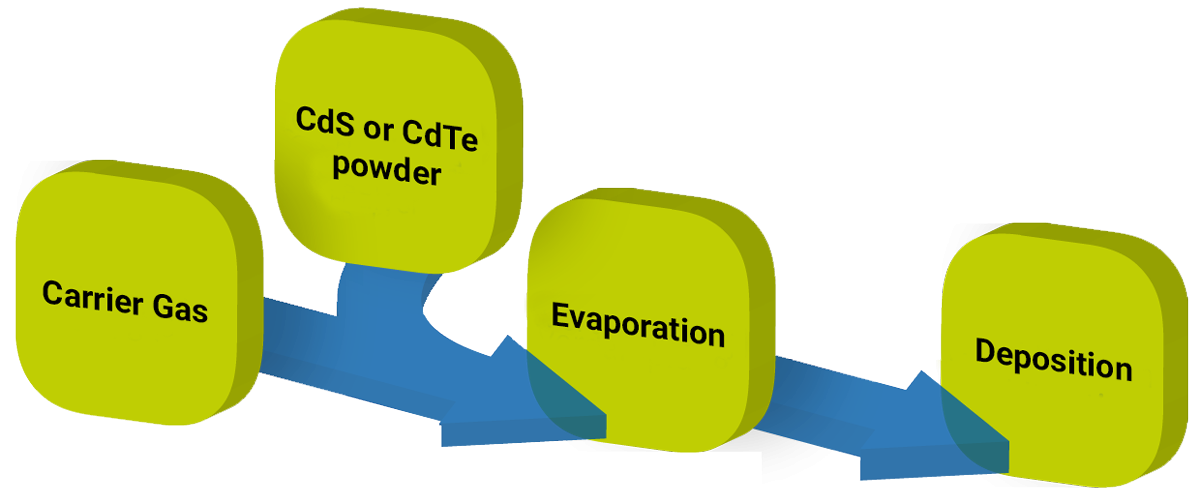 HOW IS THE GAS STREAM CREATED?
Storage and provision of the coating materials (cadmium telluride powder) are separated from the deposition unit. A continuous supply of materials is ensured from outside of the deposition unit. A carrier gas (shielding gas) of the highest purity is used for transporting the semiconductor materials. Heating and evaporation of the gas mixture with subsequent deposition onto module glass takes place in the deposition unit we developed and patented.
CALYXO COATING PROCESS IN BRIEF:
the module glasses are inserted in the glass oven and heated up to process temperature
the CdTe coating itself takes place via a cadmium telluride gas stream that deposits itself on the surface of the module glass by changing from a gaseous state to a solid (desublimation)
the coated module glass is cooled in a controlled manner and removed from the glass oven for further processing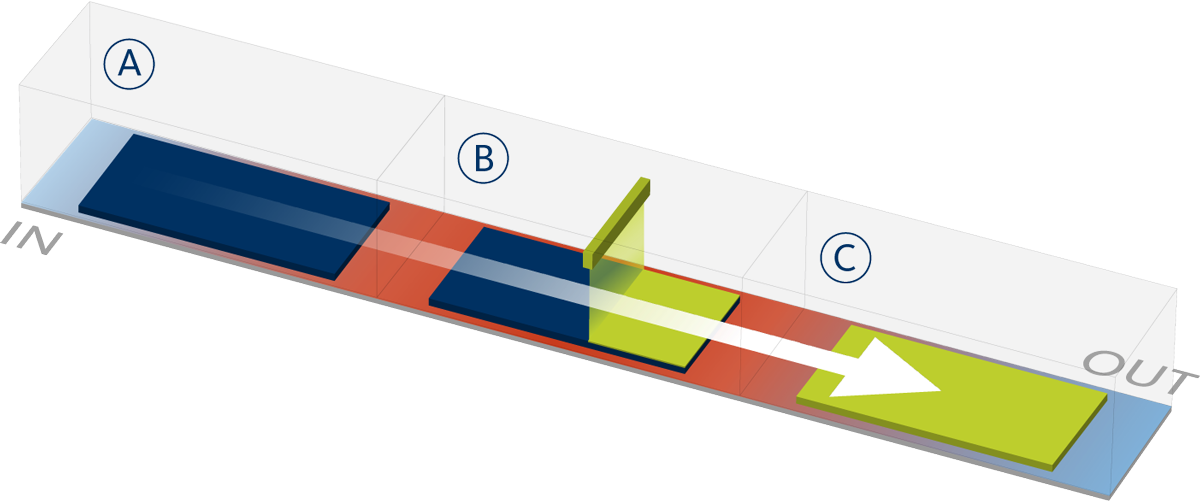 WHAT ARE THE ADVANTAGES OF THE CALYXO COATING PROCESS?
QUICK we achieve deposition rates of a few µm/min semiconductor thickness – orders of magnitude faster than other vacuum deposition processes
CONTINUOUS the conveyor belt never rests since coating takes place as a continuous process
VACUUM-FREE the whole process takes place in atmospheric conditions
COST-EFFECTIVE in terms of production and investment costs, the Calyxo coating process is the most cost-effective one worldwide!
OUR PATENTS
Starting with our first patent application in 2004, the Calyxo patent portfolio has been developed further ever since. In addition to the atmospheric coating process, comprehensive trade mark rights in numerous countries have been registered. The patent portfolio of Calyxo GmbH includes 17 granted patents and over 70 patent applications covering products, manufacturing processes and machinery concepts.