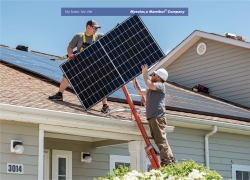 Mysolar is a Mamibot (with its headquarters based in USA) company and sub-brand, a manufacturer specialized in designing and manufacturing solar panels with the most the-state-of-the-art technology and the highest level of craftsmanship.

Mysolar aims to provide tier 1 solar panels and build itself a tier 1 solar module manufacturer. Mysolar has a team of the-most-experienced engineers with more than 15 years in Solar PV manufacturing, the strictest quality control team who averagely worked more than 10 years in Solar Panel production, the most client-oriented and professional sales team who know the art to provide proper solutions and answers to customers and the most dedicated R&D masters who can bring the latest cost-effective and high-efficient solar modules to the market.

Mysolar produces truly wide range of high-level solar panels including standard solar modules with both poly and/or mono cells, super efficient PERC solar panels in both mono and poly crystalline, super cost-effective poly and/or mono solar panels with half cells. Mysolar's high-efficient solar modules range from 280W poly to 400W mono with Half-cut Perc Cells. Mysolar is in the development process of higher power solar panels with 166.75*166.75mm solar cells, and exploring the possibility of producing panels with cells over 200mm size.

We believe that we are rewriting the history of energy consumption way and we are doing more to build a cleaner and more comfortable world.