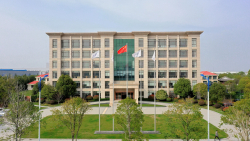 Yangzhou Jinghua New Energy Technology Co, Ltd, was established in July 2019. It is a major industrial project invested and constructed by Jiangdu High Tech Zone of Yangzhou city. It is committed to build an efficient solar module manufacturing enterprise integrating R&D, production, sales and service. With a total planned investment of 500 million RMB, the project will build a 2GW efficient solar module production base, completed the construction and production of phase I of 1. 2GW in 2020.
Our company maintains and has the most cutting-edge product planning and capacity expansion in the market. Diversified products: big size half cell, reflective film module, etc. the equipment is compatible with MBB big size single-facial and Bi-facial high-efficiency cells, which can produce big size high-efficiency solar modules. Muti mode business: carry out licensing, processing and independent brand sales with domestic mainstream photovoltaic enterprises.
Our company shoulder the mission of "intelligent selection of high-quaity products, servicing green energy", take the striver as the basis, customer as the center, embrace suppliers, strives to improve the mechanism of win-win cooperation through consultation, with the vision of building into the most trusted photovotaic module manufacturing enterprise by customers, continuously upgrade intelligent equipment with strategic partners, builds industrial 4.0 intelligent factory, and help China with intelligent manufacturing 2025!