Services for Manufacturers

Vakbeurs Energie 2021
Vakbeurs Energie 2021
| | |
| --- | --- |
| | Amerlandseweg 3, 3621 ZC, Breukelen, The Netherlands |
| | |
| --- | --- |
| | 's-Hertogenbosch, Netherlands |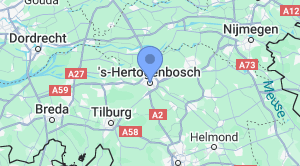 Business Details
Event Type
Conference, Exhibitions
Introduction
Vakbeurs Energie is the largest energy exhibition of its kind in the Netherlands. It is the place-to-be for energy professionals, whether it concerns a specific improvement or an integral approach, from reducing energy consumption to stricter purchasing policies.

★ Sustainable use of energy: a necessity

Cutting energy costs reaps rewards in the long run. Energy-efficient buildings hold their value better and are easier to let. Lower production costs push up margins and make companies more competitive.

★ Energie & Industrie

Energie & Industrie is the platform for renewable energy and saving energy in the industry.

★ Ecomobiel

Interested in sustainable mobility and mobility management? Pleasetake a look at Ecomobiel, which takes place at the same time and place as Vakbeurs Energie.
Exhibition profile
① Buying and selling of energy

● Consultancy
● Contracting
● Invoice checking
● Purchasing gas
● Purchasing electricity
● Purchasing heat
● Emergency power supply
● Risk management
● Selling locally generated energy

② Energy saving measures for production processes

● Consultancy
● Automation/ICT
● Detection
● Insulation
● Refrigeration technology
● Pressurized air technology
● Motors/efficiency/drive technology
● Pumps
● Control technology
● Steam technology
● Heating technology

③ Energy-saving measures for buildings

● Consultancy (e.g. Energy Service Company)
● Roof technology
● Detection
● Energy label/EPA/EPBD
● Building control systems
● Facing technology/awnings
● Installation technology
● Insulation of existing houses
● Climate control systems (cooling, airco, heating, etc.)
● Passive building or other energy-saving building concepts
● District heating
● Lighting
● Ventilation
● Hot-water supply

④ Sustainable energy

● Bio-energy
● Co-generation
● Heat pumps
● Wind energy
● Geothermal Energy
● Solar energy à take a look at the exposition program of the co-located Solar Event
● CO2 emission, rights and storage
● Waste (water) energy

⑤ Energy management

● Consultancy
● Sizing
● Distribution
● Monitoring

⑥ Electrical mobility

● Charging stations for electric vehicles
● Smart charging systems (smart grids)
● Consultancy on electric vehicles/transport
● Laws and regulations/subsidies

⑦ Associations, institutes, education and media

● Branch organizations and institutions
● Knowledge institutes and/or education
● Media (magazines/trade jounals/digital media)
Why attend
● You want to get into contact with decision makers who are interested in all aspects of energy
● Your products or applications are valuable for the energy market
● You're an innovative company and looking for a perfect platform with maximum exposure
● You want to share your knowledge with professionals from the branch
● You want to improve your yield efficiently
● You are looking for new customers
● You want to meet up with existing business contacts
● You want to increase your brand awareness
● You want a fully quantifiable marketing campaign, fitting in with your targets
● Your time is precious, you want to use it optimal