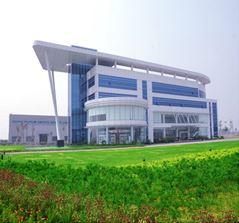 Aluminium has been widely used in creating light, durable frames and structures for solar panels as it offers heat bearing capability, corrosion resistant and weather-resistant advantages to solar panel architectures. The malleability of aluminium allows the manufacturers to give shapes as per customer's requirement.
Aluminium is used for photovoltaic (PV) solar application because it saves installation cost and is much lighter and does not compromise on the strength quotient.
Press Metal Berhad is a global aluminium company with production, sales activities in smelting of ingot, casting of billets, production of high quality and energy efficient renewable products.
Established in 1986, Press Metal Berhad has been in the aluminum industry for 30 years.
With its HQ based in Kuala Lumpur Malaysia, the whole PMB group now has over 6,000 employees worldwide and are involved in activities in more than 30 countries on all continents.
Press Metal Berhad is the largest integrated aluminium producer in South East Asia and we are also a global and leading aluminum company manufactures high quality and customized products through state-of-the-art fabrication and surface treatment technologies.
The products we produce are in virtually all available end use applications including buildings, cars, industries, transportation, household, electronic, Photovoltaic etc.
Press Metal International Ltd. [PMI] is one of the largest investment by PMB group in China for aluminum extrusion profiles in year 2005.
Under PMI, PMB has established a high and new technology company named PMIT [ Press Metal International Technology Ltd.] in 2011 focusing on the downstream technology and service activities to present global customers.
With the increasing focus on renewable energy, Press Metal International Technology Ltd. provides energy efficient products for the solar products and applications in the Photovoltaic industry that makes the installation easier and reduces cost in production.
Press Metal International Technology Ltd. is also a leading manufacturer of advanced and highly specialized aluminium extrusions products in the Renewable Energy Industry and now is serving all areas of solar energy production.
Some of the products and applications are extruded profiles in frames for photovoltaic modules and solar thermal collectors, extruded profiles for mounting structures for these frames, extruded aluminium in solar façade solutions for building industry etc.
The aluminium frames and structures are customized as per requirement through state-of-the-art fabrication and surface treatment technologies.
The company established close cooperation with famous solar energy parts manufacturers worldwide like REC Solar, Sunpower Solar, Solarworld, Tata Group etc. and our products are sold in over 20 countries all over the world.
The annual production of frames of solar energy parts is 10 million sets with full automation line running in the factory.
Solar energy concept is growing as it is a renewable form of energy and the sector is driving the growth of allied sectors like aluminium and glass fabrications. PV Aluminium frames are gaining more popularity because it also spurs the growth of a recycling business simultaneously. So we can expect substantial growth in the sector in the coming times and hope with our joint-efforts, we are able to support you on a long-term partnership to create the maximum value for each other and to leverage on the growth.