Sunworks, Inc. announced financial results for the quarter ended March 31, 2017.
Q1 2017 Summary:
- Revenue of $14.4 million, compared to $19.4 million in the year-ago quarter
- Gross margin of 19.4% compared to 28.7% in the year-ago quarter
- Net loss of $2.9 million compared to net loss of $0.4 million in the year-ago quarter
- New sales of $25.7 million compared to $9.9 million in the year-ago quarter
- Backlog of $59.8 million compared to $39.8 million in the year-ago quarter
"The first quarter marked an important transition for Sunworks," said Chuck Cargile, Sunworks' Chief Executive Officer. "The unusually rainy weather limited the number of days our teams could spend installing, particularly in the ACI part of our business. As a result, our revenue was relatively low and we incurred a loss for the quarter. However, our new sales more than doubled and our backlog is at a record level. In addition, as drier weather returns to California, we expect our installation revenue to increase significantly in the second quarter."
Mr. Cargile added, "We continued to transition our business to a more variable cost model to be more nimble in responding to variability in revenue. We expect to benefit from this improved cost structure and return to profitability as we convert our record backlog to revenue."
The company's cash balance was $4.2 million as of March 31, 2017. Total debt outstanding (including convertible debt) was $2.2 million at the end of the first quarter of 2017.
Backlog: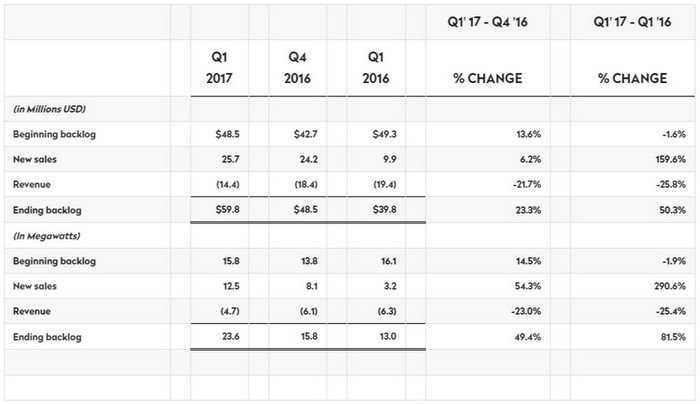 Adjusted EBITDA:
Adjusted EBITDA is a supplemental non-GAAP financial measure that the Company believes is an important measure of operating performance.
The preparation of financial statements in conformity with US GAAP requires management to make estimates and assumptions that affect the reported amounts of revenues and expenses during the reporting period.
The following is a non-GAAP measure of cash flow, or adjusted EBITDA, which adds back non-cash items including interest, taxes, stock based compensation and depreciation.