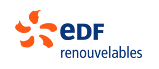 Sept. 27, 2013 - EDF Renewable Energy today dedicated the 143MWp (110MWac) Catalina Solar project located in Kern County.
Located on 900 acres of privately owned land southwest of the Tehachapi and Piute mountains, the thin film photovoltaic project is comprised of 82MWp Solar Frontier and 61MWp First Solar PV modules. The project generates electricity for 35,000 homes. EDF Renewable Services is providing the long-term operations and maintenance services for the project.
Javier De La Garza, Director of Solar Development for EDF Renewable Energy's West Region commented, "Catalina Solar consists of over 1.1 million solar PV panels and is estimated to offset 250,000 metric tons of greenhouse gas emissions annually. The project has been an important source of direct and indirect economic activity in Kern County, including over 500 workers on-site during construction. We are proud to officially dedicate this most recent example of EDF Renewable Energy and San Diego Gas & Electric's (SDG&E) long-term partnership in the Kern County communities; to provide steel-in-the-ground toward California's Renewable Portfolio Standard (RPS) goal of 33 percent renewable energy by 2020."
"The Catalina Solar project has played a vital role for jobs and the economy in my district," said Senator Jean Fuller. "The project exemplifies the scientific and technological breakthroughs that have come to define California's innovative culture. As a representative of the Rosamond community, I'm proud to support initiatives that lead to economic growth."
Assemblymember Steve Fox added, "The Catalina Solar Project has provided solutions to unemployment, to our reliance on fossil fuels, and to environmental pollution in one incredible venture. I am so pleased to welcome the Catalina Solar Project to the 36th Assembly District."
The project's clean energy is provided to SDG&E under a 25-year Power Purchase Agreement.
"SDG&E has been committed from the start to helping get viable, economic renewable resources developed, and today we again stand with our partner, EDF Renewable Energy, to celebrate another step toward reaching our aggressive goal," said Matt Burkhart, Vice President of Electric and Fuel Procurement for SDG&E. "Catalina Solar is an example of a renewable energy project that has overcome a number of regulatory and commercial challenges in its endeavor to reach the finish line. We applaud EDF Renewable Energy for their efforts, and success."