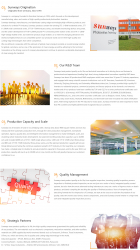 Sunways is a PV technology company founded in Konstanz, Germany in 1993, and it was purchased by Shunfeng International Clean Energy Group (SFCE) in 2014. Sunways has been developing, manufacturing, distributing high-efficiency inverters which utilize cutting-edge technologies for more than 25 years, and it's one of the oldest PV technology companies in the world.
Sunways production has now moved to Cixi, China for economy of scale while German technical standards are still in use and practiced. These include the material selection, software control algorithm, R&D processing procedures, test standards and production management system process.
The production facility in China is around 4000m² in size, with an inverter production capacity of about 10,000 units per month. This will soon increase to 20,000 units per month through further production line expansion.
Technological innovation is one of Sunways core competences. With an R&D team 50+ strong, each member holds at least 10+ years experience, many of which come from highly regarded PV/inverter manufacturers. With strong capabilities in independent innovation, the Sunways R&D team has developed a series of products and solutions for residential, commercial and utility-scale PV systems which constantly meet the changing market demands. These demands are met through fast paced & ongoing development cycles.