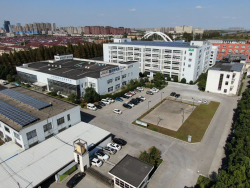 Established in Shanghai in October 2001, DLG started its business. Through years of dynamic development, DLG has set up several manufacturing bases and sales centers domestically in Shanghai, Shandong, Jiangsu and overseas in Vietnam, USA and Netherlands, covering multiple areas including solar energy storage system, packs for two-wheelers, cylindrical batteries, and other battery-related research, design, manufacturing, sales and service.

DLG currently has total assets over USD 155 million, 110,000 square meters plant area, and 300 employees. The corporation's sales revenue continues growing and reached USD 150 million in year 2020.

DLG has been consistently targeting to be an industry battery expert and to contribute to the society with continuous business operation. Based on the company philosophy "Focus, Innovation, Pragmatism, Cooperation", DLG has been striving for being a leading battery brand by offering high-quality products which meet the market and customer demands, and providing customers all around the world with advanced green energy solutions.