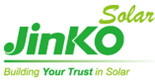 JinkoSolar Holding Co., Ltd. today announced that it has supplied 24MW of PID-free Eagle modules to Gunkul Engineering Public Company Limited for a project in southern Thailand. The project has been connected to the grid and is operating.
Located close to the east coast of the Gulf of Thailand in Prachuap Khiri Khan Province, the project has to withstand tropical monsoons along with high temperature and humidity all year round, posing big challenges to regular solar modules. Under those circumstances, JinkoSolar`s Eagle series products are certified against severe environmental conditions, were chosen for this project.
"We are glad to work with Gunkul on this project in southern Thailand," commented Mr. Gener Miao, vice president global sales and marketing of JinkoSolar. "The Thai government`s great enthusiasm towards renewable energy, especially solar energy, has created great demand with solar power: the solar power generation is expected to reach 9% of total power generation by year 2036. We have been working closely with our local partners and have built a solid reputation. The superior performance of JinkoSolar`s products, their adaptability to the local environment and ability to prevent unnecessary power loss could protect the project from region`s extreme environment effect and maximize the customer`s return on their investment."