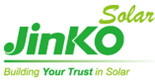 JinkoSolar Holding Co., Ltd. today announced that it will supply METKA-EGN USA LLC with 57.65MW of PV solar modules for solar PV plant in Puerto Rico.
JinkoSolar will deliver the 57.65MW of PV solar modules for the project located in the municipality of Isabela, Puerto Rico. The Owner of the project is Oriana LLC.
"METKA-EGN is one of our most important European EPC clients and we are very happy to expand our partnership into other growth regions of the world. Global strategic partnerships like this one with METKA-EGN, one of the leading EPC players in the world, forms a cornerstone of JinkoSolar's global success story", said Mr. Frank Niendorf, General Manager JinkoSolar Europe.
"METKA EGN is pleased to collaborate with JinkoSolar on the completion of the largest solar PV project in Puerto Rico. We look forward to cooperating with JinkoSolar's professional and dedicated team again on future projects," commented Mr. Nikos Papapetrou, CEO of METKA EGN.