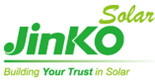 JinkoSolar Holding Co., Ltd. today announced a record high efficiency of 24.2% was achieve by its large-area N-type TOPCon monocrystalline silicon solar cell. Testing was conducted by the Photovoltaic and Wind Power Systems Quality Test Center at the Chinese Academy of Sciences (CAS).
The large-area N-Type cell features JinkoSolar's HOT cell design, which is based on tunnel oxide passivating contact technology. The world PV module power record of 387.6W for N-type half-cell module (60P) was fabricated using JinkoSolar's HOT cell design.
N-type HOT technology is a key R&D milestone for JinkoSolar and is opening up a new path towards developing high efficiency industrial products. JinkoSolar is jointly working with the Solar Energy Research Institute of Singapore's mono-poly technology, University of New South Wales' advanced hydrogenation technology and The Australian National University's passivating contact technology.