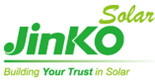 Daqo New Energy Corp. today announced that it has signed a two-year polysilicon supply agreement with JinkoSolar Holding Co., Ltd.
Under the terms of the supply agreement, Daqo New Energy will supply JinkoSolar with 12,000 to 14,400 MT and 15,600 to 21,600 MT of polysilicon during calendar year 2020 and 2021, respectively. Prices will be determined on a monthly basis according to market pricing.
Mr. Shihua Su, Chief Marketing Officer of Daqo New Energy, commented, "We're very pleased to sign this two-year supply agreement with JinkoSolar which will further strengthen our long-term strategic relationship. JinkoSolar is significantly expanding its mono-wafer capacity as part of their strategy to meet the rapidly changing demand from end customers. Our two companies have a long-standing partnership that spans many years and we are delighted to have been selected for our ability to produce high-purity mono-grade polysilicon. This supply agreement further demonstrates Daqo as the supplier of choice for high-quality mono-grade polysilicon with proven reliability. Once our Xinjiang polysilicon production facility expands to 70,000 MT capacity by the end of this year, we will be able to meet the rapidly growing demand from our mono-solar customers and the global solar PV industry."