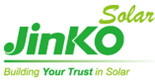 JinkoSolar Holding Co., Ltd. today announced that it has supplied 21.4MW of solar PV modules to Harsha Abakus Solar Pvt. Ltd. for a ground mounted solar PV project in Gujarat, India.
Located in Charanka, Gujarat, the project deploys seasonal tracking technology to improve plant performance. The project is expected to generate approximately 34.24 million kWh of electricity and remove 30,000 tons of CO2 annually. The project will be jointly owned by Gujarat State Electricity Corporation Limited and Gujarat Power Corporation Limited.
"With over four decades of operations in Gujarat, Harsha Abakus has sound operational track record," commented Mr. Xiande Li, Chairman of JinkoSolar. "JinkoSolar is selected as a partner due to our solid brand reputation and excellent product quality. We share a common commitment to developing clean energy with Harsha Abakus, and view this project and the local Indian Government's support as a tremendous opportunity for us to grow our business in India and help diversify the country's energy mix."